My BEA 2013 Experience
8:56 PM
Hello everyone, Phil here with something a little bit different for you today. This past week, Thursday to be exact, I attended Book Expo America at the Javits center in New York City. BEA is the largest Book and Author event in the United States, and is basically where readers, bloggers, authors, publishers, and press go to meet authors, and get the upcoming summer and fall releases. This was my first year at BEA, and I can not wait to go back again next year!

Essentially BEA is just a giant room where publishers set up booths and host events such as author signings, giveaways, and meet and greets. I did some really cool things like attend an Author signing for the upcoming August 2013 release of Doon by Carie Corp and Lori Langdon, I met author Dan Krokos, and got a lot of free upcoming releases!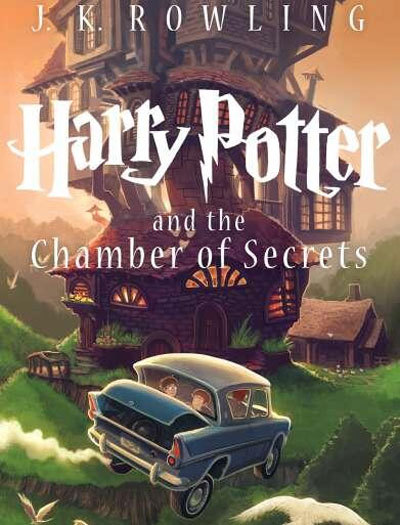 The highlight of my BEA experience though, was definitely meeting Kazu Kibuishi, the artist who is designing the new Harry Potter paperback book covers. I got a signed poster from Kazu himself, got to talk to him for about a minute about his art, and I got to see the release for the new Chamber of Secrets (picture to the left) book cover, which is awesome!

Overall, BEA was absolutely amazing! I can not wait for next year when my blog partner (Geraldine obviously), and my other bookish friends Alyssa, Ke-sha, Kristina, and hopefully Brad and Viktoria are able to come as well! Because if I was as crazy as I was this time around, I can only imagine how crazy I will be when I have friends with me!

Along with this blog post I made a book haul video on my Youtube channel that I will link below click here to see it---> VIDEO.

Books I got at BEA:
Nowhere to Run by Jude Watson
Doon by Carey Corp and Lori Langdon
All the Truth That's In Me by Julie Berry
Under the Empyrean Sky by Chuck Wendig
Swept Up by the Sea: A Romantic Fairytale by Tracey Hickman
Witch Eyes by Tracey Scott
Demon Eyes by Tracey Scott
Phantom Eyes by Tracey Scott
Pillage by Obert Skye
Choke by Obert Skye
Ambush by Obert Skye
The Color of Rain by Cori McCarthy
Ripper by Amy Carol Reeves
Renegade by Amy Carol Reeves
The Wolf Princess Cathryn Constable
Counting by 7's by Holly Sloan Coldberg
The Planet Thieves by Dan Krokos
The Fantastic Family Whipple by Matthew Ward
The Creature Department by Robert Paul Weston
The Ludwig Conspiracy by Oliver Potzsch
The Song of the Quarkbeast by Jasper Fforde
Strike Force by Nick James
Ballad by Maggie Stiefvater
The Dream Thieves by Maggie Stiefvater
Ink by Amanda Sun
Hope you guys liked this post, and you can look forward to a new review from either Geraldine or I tomorrow!